---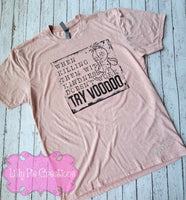 This t-shirt is perfect for when you need to express yourself in a quirky way. Black in on a vintage looking desert pink tee - guaranteed to stand out in a crowd. Plus, it's super soft and comfy, making sure you look good and feel great!
Sublimation is a process that involves using specialty ink that fuses directly to the fibers of the shirt, no heavy embroidery or vinyl, no peeling, cracking or fraying! All items are printed and pressed right here at Lilly Pie Creations

My turnaround time is approximately two weeks plus shipping. I try my hardest to complete orders quicker but guarantee to ship your items no later than two weeks after the date of purchase. If you need an item sooner please contact me at LillyPieCreations@hotmail.com prior to placing your order.